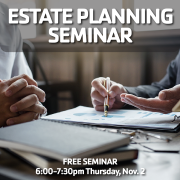 FREE SEMINAR Presented by: Ryan Conboy, Kreis Enderle Law Offices
Now more than ever, it is vital to have a plan in place that will protect your assets, provide for your family, and spare them the burden of unnecessary taxes, expenses, and delays. It is important to focus your time and effort both on the preservation and distribution of your assets. This will allow you to accomplish your personal and financial goals.
Helping Protect Your Estate Assets and Avoid Unintended Consequences
Join us at the YMCA of Greater Kalamazoo for an educational workshop where we will focus on sound financial strategies that could help preserve more of your wealth for your heirs and charitable causes. Registration required. Spouses and partners are recommended to attend. Light appetizers and beverages provided.
Register now!
Date: Thursday, November 2
Time: 6:00pm-7:30pm
Location: Maple Street YMCA, 1001 W. Maple St., Kalamazoo
Questions: email dmorgan@kzooymca.org or call 269-459-4849