The YMCA of Greater Kalamazoo has had a long and colorful history. The first YMCA in Kalamazoo was started in 1866, just 15 years after Thomas Valentine Sullivan's first American YMCA came into being. Unfortunately, the Kalamazoo endeavor proved to be more difficult to sustain, and the YMCA disbanded in Kalamazoo in 1871.
The YMCA returned to Kalamazoo almost 15 years later with F.M. Hodge serving as the first Board President in 1885. The Y's 270 members moved into the organization's first building in 1892, where it stayed until a fire destroyed the building in 1911.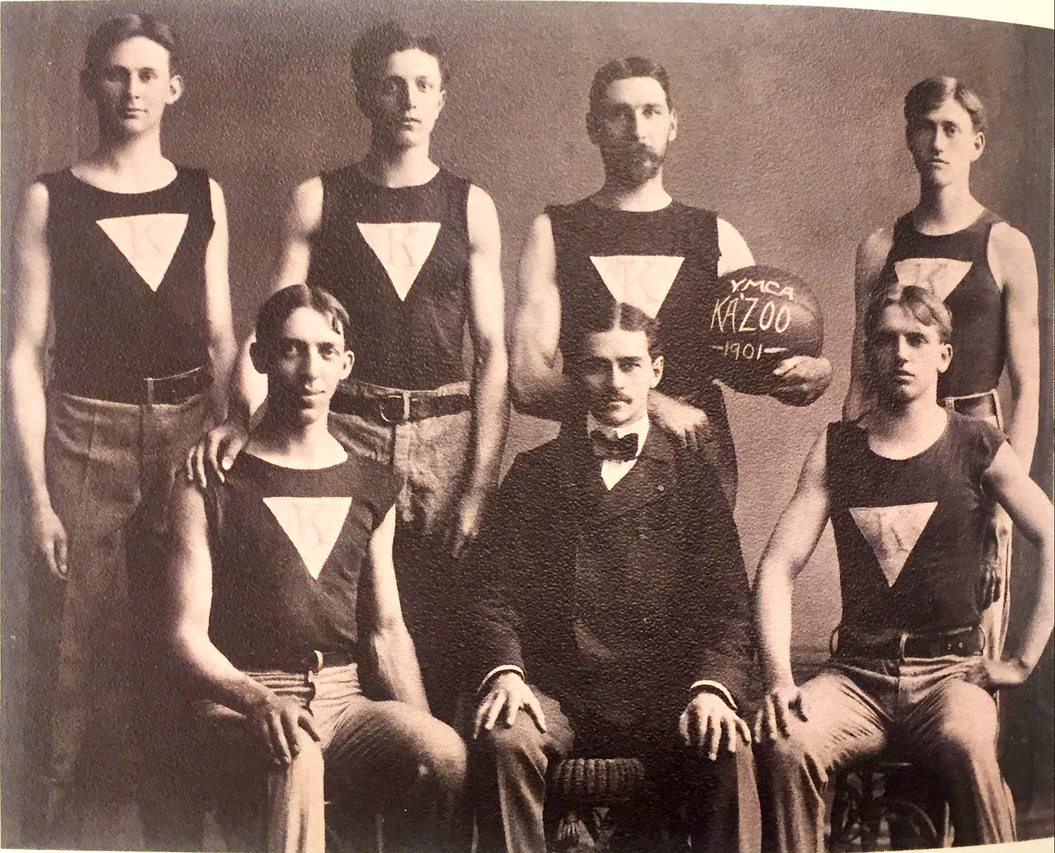 Undaunted, the YMCA staff and members set about constructing a newer, better building, and they succeeded in spectacular fashion. Over 50,000 people were on hand as President William Howard Taft laid the cornerstone of the new building at the corner of West Michigan and Park Street. (Click here to read Taft's address.)
Since then, the YMCA of Greater Kalamazoo has continued to expand and grow. The current Y Maple Branch was built in 1970 to accommodate the 2,250 members the organization had attracted. In 1985, school-age childcare was offered at three sites, and by 1987 the YMCA had served over 20,000 people in Kalamazoo County.
In 1991, The Y expanded again when the Portage Branch opened on Centre Avenue, and two years later added the aquatics facility. In 1992, the Lincoln Family Program Center opened on North Burdick Street inside Lincoln Elementary School.
By the time the Y celebrated its 100 years of continuous service in Kalamazoo, membership had swelled to over 11,000 individuals.
In 2015, the Y leadership launched its BUILDING FOR GENERATIONS CAMPAIGN targeting major facility improvements to meet the growing needs of the community. These facility upgrades included:
New Welcome Center at Maple, consolidating Member Service desks and creating a single-point-entry system for safety and convenience
New instruction warm water pool with full access, zero-grade entry, child's wading pool and resistance walking pool at Maple
New private and full-access locker rooms at Maple and Portage
New Kids Zone at Maple
New Youth/Teen Center at Maple
By 2020, the Y experienced its largest growth spurt, peaking at nearly 21,000 members in the first quarter. Other noteworthy milestones include a record number of persons served through financial aid in 2019 reaching a record high of almost 9,500 served and representing nearly $500,000 in financial assistance awarded to our community members. This is made possible by a growing support base recognizes the Y's role in creating youth development and healthy living opportunities FOR ALL.
During the COVID-19 pandemic shutdown, the Y closed its doors to its members for programming and fitness as required by state law, but immediately mobilized its staff and proven processes to establish emergency programs to support the community, including Emergency Childcare for Essential WorkForce Personnel, offering its facilities for emergency blood drives, and managed a Meal Distribution program, serving 6,000 meals weekly to Kalamazoo and Portage's most vulnerable. With the help and support of the members who STUCK WITH US through the pandemic, we were able to serve as needed.
We continue to adapt to the community's needs.