Each year, the YMCA of Greater Kalamazoo gathers hundreds of supporters and community leaders to address inequities in our community. With the help of our presenting sponsors, all funds raised from this critical event directly support the YMCA's Annual Campaign, a financial assistance program that creates access and builds equity by reducing financial barriers for youth and families in our community.
We are thrilled to be planning this year's event and to be getting back into our spring schedule! We have much to share and much work to do to address the needs of the community. We hope you can join us this year.
YMCA of Greater Kalamazoo Annual Community Breakfast Presented by ABRAXAS
Friday, April 21, 2023
Check-in & Buffet Open: 7:00 - 7:25a
Presentation: 7:30 - 8:30a
TO REGISTER FOR THE EVENT CLICK HERE
If you know you cannot attend and are willing and able, please consider making a monetary gift to support our financial assistance program here.
Contact: Rhonda Ludwig, VP of Membership and Fund Development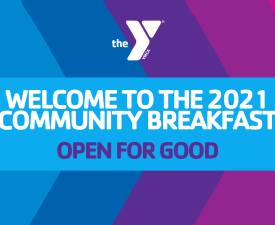 VIDEO: 2021 Community Breakfast